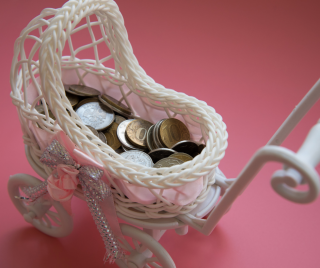 There are so many "balls in the air" when coordinating a surrogacy journey, and one of the hardest to understand, unfortunately, is cost. Often, clients are borrowing money from a family member, taking a second mortgage or loan, or withdrawing funds from a retirement or investment account to pay for their journey. The uncertainty and inability to generate even a ballpark number for what this whole thing might cost causes anxiety and stress in a process that is already overwhelming. This article will help organize your thinking about how to get a handle on the finances of surrogacy.
Think of it in terms of buckets. There are 4 Major Buckets in a surrogacy journey.
AGENCY FEES– If you decide to utilize the services of an agency to locate your gestational match and/or manage the pregnancy, there will be a fee directly to the agency for that service.
Helpful tips
Shop around! Not all agencies are the same, and it's important that you understand what your agency fee includes and excludes (screening fees, legal fees, escrow fees, etc).
Ask your agency what the required compensation for the gestational carriers will be at their agency. If you work with an agency, for example, that requires intended parents to offer $50,000 in base compensation to the carrier, then your budget will be impacted BOTH in the first bucket (agency fee) and the second bucket (carrier compensation)
CARRIER COMPENSATION– this is what you pay to your surrogate directly (or through an escrow agent).
Helpful tips
There's base compensation, which is a whole number paid out in monthly installments from confirmation of pregnancy until birth and then there are NUMEROUS other stipends. Some will occur regardless (like an embryo transfer stipend or a maternity clothes allowance) and some will occur only upon a triggering event (multiples fee (if she carries more than one fetus), C-section stipend, invasive procedure stipend, etc). If you're looking for a "worst case scenario," you'll need to add up not just the base compensation payments, but all the other stipends as well to make sure you have enough to cover the journey even if everything that could happen does happen.
HEALTH INSURANCE – This is what you'll pay in premiums, co-pays, and deductibles for your surrogate's health insurance.
Helpful Tips
Even if your surrogate already has health insurance, and even if that health insurance has "maternity coverage" that doesn't necessarily mean it will cover a surrogacy pregnancy. Many health insurance plans EXCLUDE coverage for surrogacy.
If your surrogate's health insurance policy excludes coverage for surrogacy, you'll have to factor in the cost for a replacement policy. If it does not exclude coverage for surrogacy, you should make sure you understand the terms of the policy like deductibles, co-insurance, and "max out-of-pocket" amounts since you will likely be paying those in the year she delivers.
PROFESSIONAL FEES– This is what you'll pay to your IVF doctor, any fees related to donor eggs, sperm or embryos, and your legal fees.
Helpful Tips
Make sure you understand what is included (and not included) in your IVF package – how many embryo transfers, screenings of the surrogate, if there is a partial refund available in the event of an unsuccessful outcome, etc.
Make sure you factor in the cost of medications with your IVF costs, not just the treatment costs themselves.
For the lawyers, make sure you ask for pricing for ALL of the legal processes, and when each one takes place. In most states, there is a pre-birth parentage order process that takes place around the second trimester. Sometimes intended parents don't realize this other payment is coming (and was NOT included in the cost of drafting their gestational surrogacy contract), and they are unprepared financially.
We know it can be a confusing time when you are starting your surrogacy journey. Contact us today with any questions you may have, because sometimes it takes a village.
The following two tabs change content below.
Latest posts by Jennifer Tharrington (see all)